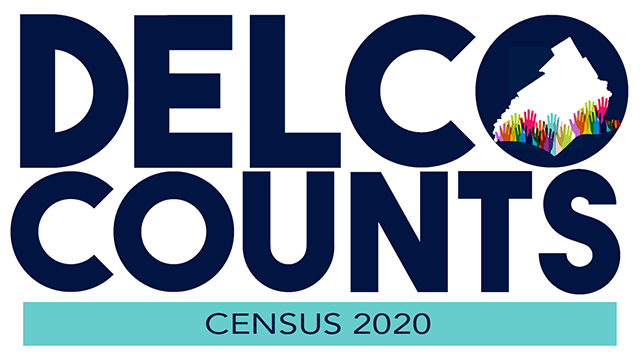 Latest News
Delaware County's response rate in the 2020 Census
Delco Complete Count Committee Warns of Fake Census Mailer
Census Champion Trainings Feb. 22, 25 and March 7
Census Job Fair held Feb. 7 in Trainer
Census Job Fair held Feb. 7 in Chester
Census Job Fair held Feb. 6 in Chester
Delco Libraries hold Census Job Fairs Jan. 29, 30 and Feb. 3, 5, 7, 10, 11
Delaware County Forms Complete Count Committee
What is the Census 2020?
The Foundation for Delaware County's Hispanic Resource Center is aiding Spanish speaking residents in Delaware County who need information or help to complete their 2020 Census Questionnaires. Spanish speaking residents can call 267-453-7289, Monday-Thursday from 10:00 a.m.-3:00p.m.
El Centro de Recursos Hispanos del Foundation for Delaware County está ayudando a los residentes de habla hispana en el Condado de Delaware que necesitan información o ayuda para completar sus Cuestionarios del Censo 2020. Los residentes de habla hispana pueden llamar al 267-453-7289, de lunes a jueves de 10:00 a.m. a 3:00 p.m.
Your response matters!
The U.S. Constitution requires that each decade we take a count— or a census—of America's population.
Census results help determine how billions of dollars in federal funding flow into states and communities each year.
It's mandated by the U.S. Constitution in Article 1, Section 2: The U.S. has counted its population every 10 years since 1790.
The census provides vital information for you and your community.
It determines how many representatives each state gets in Congress and is used to redraw district boundaries.
Redistricting counts are sent to the states by March 31, 2021.
Communities rely on census statistics to plan for a variety of resident needs including new roads, schools, and emergency services.
Businesses use census data to determine where to open places to shop.
Did you know:
Thomas Jefferson directed the first census in 1790. As required by the U.S. Constitution, a census has been taken every 10 years thereafter. In 1840, the Census Act authorized the establishment of a centralized Census Office. In 1902, the Census Office became a permanent organization within the Department of Interior. A year later, it was renamed the Bureau of the Census and moved to the new Department of Commerce and Labor.
2020 Census:
The 2020 Census is a Decennial Census, which is the once-a-decade population and housing count of all 50 states, the District of Columbia, Puerto Rico and the Island Areas as required by the U.S. Constitution. The results of the decennial census determine the number of seats for each state in the U.S. House of Representatives and are used to draw congressional and state legislative districts and to distribute more than $675 billion in federal funds each year.
[Source: U.S. Census Bureau ]

Helpful Links:
Delaware County Census Information
United States Census Web Site - https://2020census.gov/en.html
2020 Sample Questionnaire - https://www.census.gov/programs-surveys/decennial-census/technical-documentation/questionnaires/2020.html
The Census at a Glance - https://www2.census.gov/about/census-at-a-glance.pdf
Become a Census Worker - https://2020census.gov/en/jobs.html
Children Count Too! -https://www.census.gov/content/dam/Census/newsroom/press-kits/2018/counting-young-children-in-2020-census.pdf