This page provides information about lead and lead poisoning in Delaware County. This page includes steps Delaware County residents can take to protect themselves and their families.
What is Lead Poisoning?
Lead poisoning occurs when lead builds up in the body. Even at low levels, lead can cause serious harm. Lead poisoning can affect individuals of all ages. Children under the age of 6 and pregnant women are especially at risk for lead poisoning.
Lead is a naturally occurring metal. Lead is found in older house paint. Lead can build up in house dust and soil. Lead is found in many products, including batteries and ammunition.
Lead-based paints were banned for residential use in 1978. Homes built in the U.S. before 1978 are likely to have lead-based paint. The median year of houses built in Delaware County is 1956.
The CDC has a simple visual aid that shows how lead can be found throughout a child's environment.
Childhood Lead Poisoning in Delaware County
Childhood lead poisoning has decreased in recent decades, though we still see many cases of lead poisoning in Delaware County.
In 2021, a total of 294 children had an Elevated Blood Lead Level (EBLL) in Delaware County. An elevated blood lead level is defined at this time as one venous test ≥ 3.5 μg/dL, or two capillary tests ≥ 3.5 μg/dL, within 12 weeks of each other.
Similar to other areas of Pennsylvania, this is based on limited numbers of children being tested. Less than 20% of children in Delaware County have had their blood lead tested in the past.
Black and Hispanic children are disproportionately poisoned because they are more likely to live in older properties with deteriorated lead-based paint. Black or Hispanic children are found to have lead poisoning six times more than Caucasian children.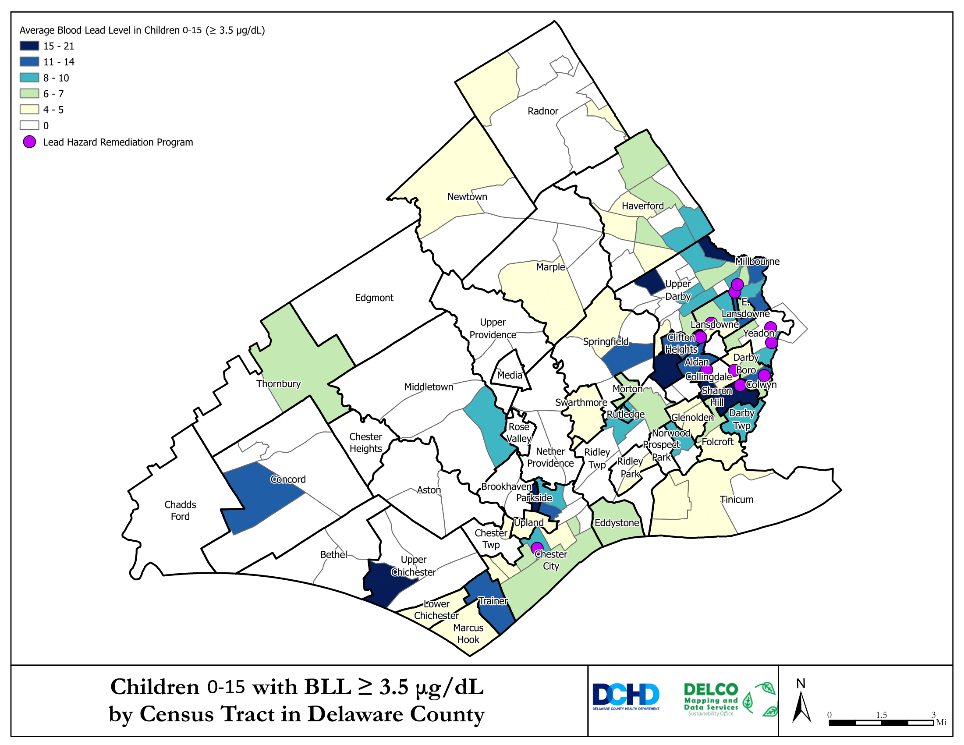 Average Blood Lead Levels in Children Under 15 in Delaware County in 2021 (Showing ONLY Elevated Results (above 3.5 ug/dL))
This map summarizes 2021 blood lead testing results averaged by census tract for children in Delaware County with results over 3.5 ug/dL. Areas without any shading did not report any children with elevated results. Darker colors represent the areas reporting the highest average blood lead levels. Eastern Delaware County has the highest number of elevated levels.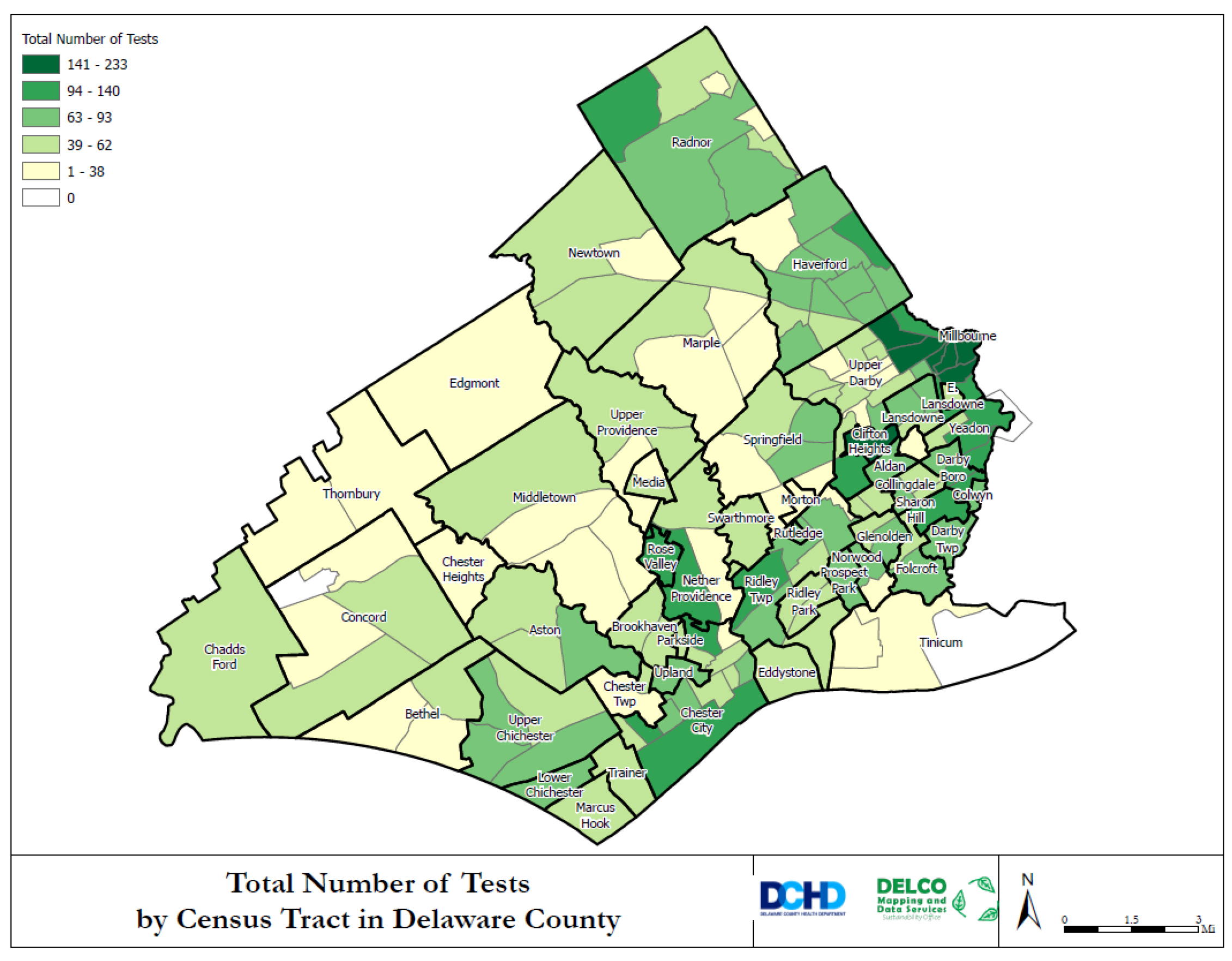 Blood Lead Testing in Children Under 15 in Delaware County in 2021
This map shows the total number of blood lead tests in children under 15 years of age across Delaware County in 2021.
Darker colors represent areas with more blood lead tests.
Here are videos from two parents in Delaware County sharing their family's experience with lead poisoning and how they found help to fix the lead hazards in their homes:
Get the Lead Out: A Parent's Story or Lead Poisoning
This brief video provides the parent's own personal story with lead in their home and the impact on their family.
2022. Total Running Time: 3 minutes 43 seconds
Get the Lead Out: A Parent's Plea to Get Your Home Checked
This brief video features a Delaware County parent discussing their personal story regarding lead in their home.
2022. Total Running Time: 2 minutes 15 seconds
Sources of Lead Exposure
Lead Paint: When lead paint peels and cracks, it can lead to exposure of lead dust. Children are exposed when lead dust is breathed in or swallowed.
Lead in Water: Lead can enter drinking water when a chemical reaction occurs in plumbing materials that contain lead. Corrosion of the metal leads to lead exposure.
Lead in Soil: Industrial emissions, leaded gasoline, and exterior house paint over time can cause lead concentrations in soil. Bare soil where children play, and pets walk around in can track lead dust into a home.
Lead in Work and Hobbies: Certain occupations and hobbies can also draw in lead, including house repainting/remodeling, auto repair, ceramics, jewelry making, and more. Commercial products such as imported cosmetics and jewelry, candies, ceramics, and imported toys also may contain lead.
Lead Prevention and Testing
The most important step in protecting children and other vulnerable individuals from lead poisoning is prevention.
Help is available for families in Delaware County to test for and address lead hazards in your home. Please contact the Delaware County Office of Housing and Community Development or the Community Action Agency of Delaware County for more information about these resources.
There are two types of prevention — primary prevention and secondary prevention:
Primary Prevention
Primary prevention involves the removal of lead hazards from the environment before an individual is exposed to lead. There are a few options available to test your home for lead-based paint:
A lead-based paint inspection. Tells you if your home has lead-based paint and where it is located. It will not tell you whether your home currently has lead hazards or how to deal with it. This is most helpful when buying a home or signing a lease, before renovating.
A lead-based paint risk assessment. Tells you if your home currently has any lead hazards from lead in paint, dust or soil and what actions to take to address these hazards. This is most helpful if your home is known or suspected to contain lead-based paint.
A combination inspection and risk assessment. Tells you if your home has any lead-based paint and if your home has any lead hazards, and where both are located.
For either option, you should hire a certified lead professional to test your home for lead and to do any needed work. There are standards in place for certifying lead-based paint professionals to ensure the work is done safely, reliably and effectively. Locate a trained professional in your area who can evaluate and test your home for lead.
Secondary Prevention
Secondary prevention involves blood lead testing and follow-up care and referral.
Most children who have lead poisoning do not look or act sick. The only way to know if your child has lead poisoning is to get a blood lead test. Ask your healthcare provider to test your child for lead. If you don't have a provider or need help locating one, please reach out to the Delaware County Wellness Line at (484) 276-2100.
Delaware County Lead Reporting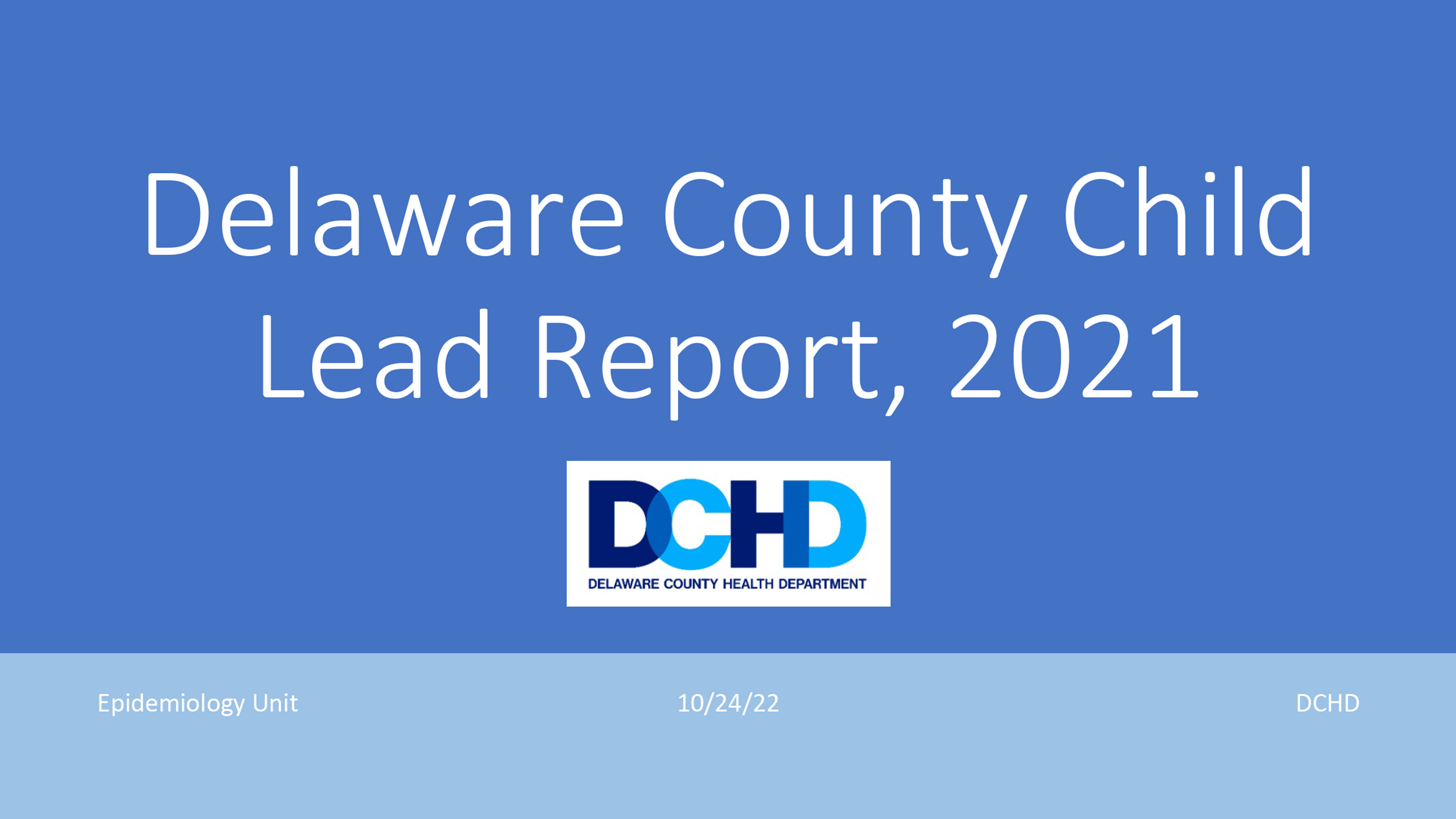 Delaware County Child Lead Report, 2021
Learn more about lead poisoning and lead exposure in Delaware County.
You may also view Delaware County Health Department Director Melissa Lyon's 'Delco Get the Lead Out' presentation that introduced this report during the Children First "Unveiling Strategies to Stop Lead Poisoning" event held on October 25, 2022.
DCHD's Delco 'Get the Lead Out' Forum
Presented by Melissa Lyon, Director, Delaware County Health Department
Widener University, October 25, 2022
Lead Resources
Family Members
Children's Milestones: Learn the Signs. Act Early - CDC
FREE Programs for Lead Removal - Children First
Making Sure Your Child is Safe at Home - Children First
Tips to Clean Dust in Your Home - NM Dept of Health
Lead Dust in Blinds - NM Dept of Health
Delaware County Lead Resource Directory - Children First
Healthcare Providers
CDC Healthcare Providers Information - CDC
Blood Lead Reference Value - CDC
Landlords
Lead Hazard Reduction Program Application: Landlord - Delaware County
Renters and Homeowners
Lead Hazard Reduction Program Guide - Delaware County
Lead Hazard Reduction Program Application: Homeowner - Delaware County
Make Your Home Safe - Children First
Pregnant Women
Lead and Pregnancy - CDC
Spanish Lead Resources:
5 Cosas Que Usted Puede Hacer - CDC
¿ESTÁ EMBARAZADA? - CDC
Cómo Prevenir El Envenenamiento Por Plomo En Los Niños - CDC
InfórmeseL Proteja a su hijo de la exposición al plomo - CDC
No Hay Un Nivel Segurdo De Plomo En El Cuepo De Un Niño - Children First
---
For more information and assistance, the Delaware County Health Department Wellness Line is available 24 hours a day, 7 days a week. In addition to responding to phone calls, the Wellness Line also responds to email inquiries.
Phone: (484) 276-2100 (Available 24/7)
Email: DelcoWellness@co.delaware.pa.us