Location: 20 S. 69th Street Upper Darby, PA 19082
Phone: 610-713-2571
Fax: 610-713-2378
Current Events
Women's History Month 2020 Celebration and Awards – Originally scheduled for March 2020 but postponed due to COVID-19. Stay tuned because we want to recognize these wonderful women at an upcoming event as soon as restrictions allow.
April 1, 6pm - Delaware County Women's Commission monthly meeting. The public is invited to attend. This will be a virtual meeting due to COVID-19. If interested, pls email oddig@delcohsa.org for info.
May 6, 6pm - Delaware County Women's Commission monthly meeting. The public is invited to attend. This will be a virtual meeting due to COVID-19. If interested, pls email oddig@delcohsa.org for info.
June 3, 6pm - Delaware County Women's Commission monthly meeting. The public is invited to attend. This will be a virtual meeting due to COVID-19. If interested, pls email oddig@delcohsa.org for info.
September 9, 6:30pm - Delaware County Women's Commission monthly meeting. The public is invited to attend. This will be a virtual meeting due to COVID-19. If interested, pls email oddig@delcohsa.org for contact info.
Women's History Month 2020
The Delaware County Women's Commission postponed the Women's History Month Breakfast originally scheduled for March 25, 2020, rescheduled to May 13, 2020, then eventually cancelled.
The 2020 theme, rolled into the 2021 theme since "Valiant Women of the Vote" was such a significant anniversary of the right to vote for women in 1920!. Unfortunately, due to the pandemic, we did not celebrate in person in 2021. However, our winners received recognition at the County Council meeting on March 17, 2021 and received a gift card in the following month to recognize their achievement.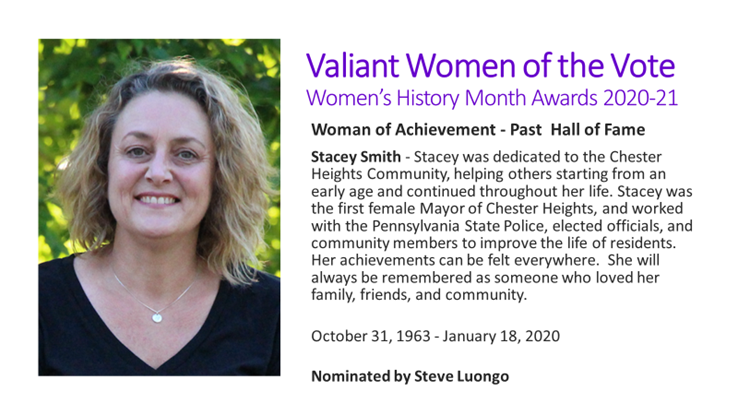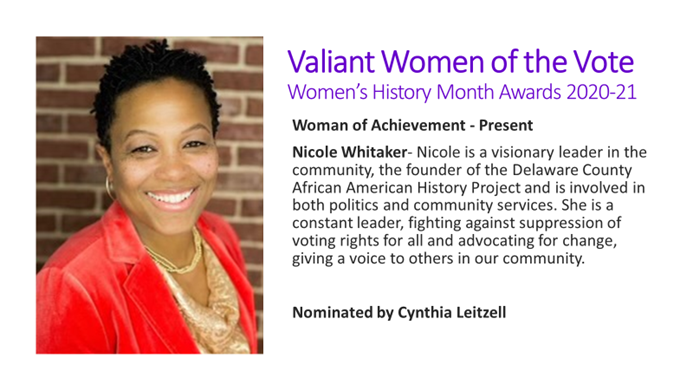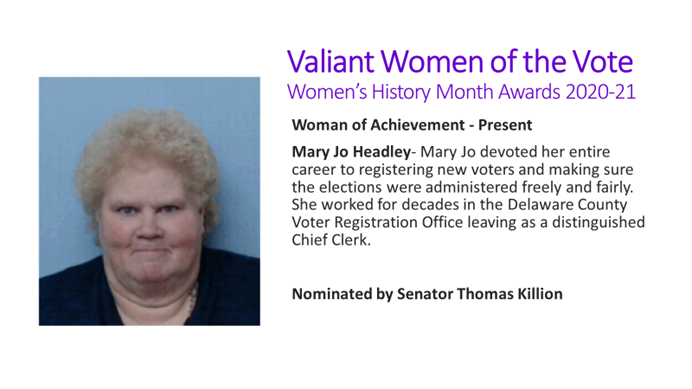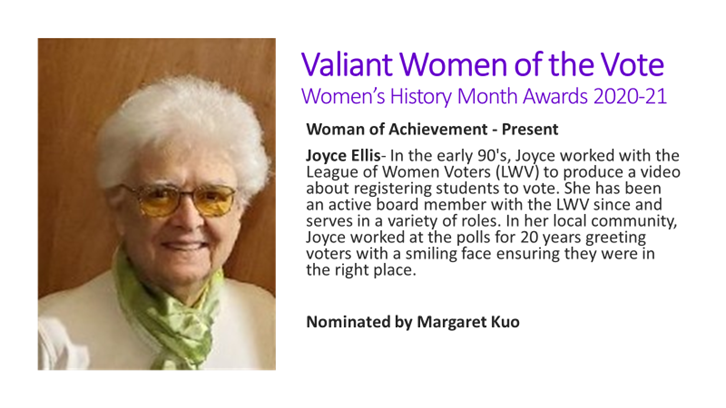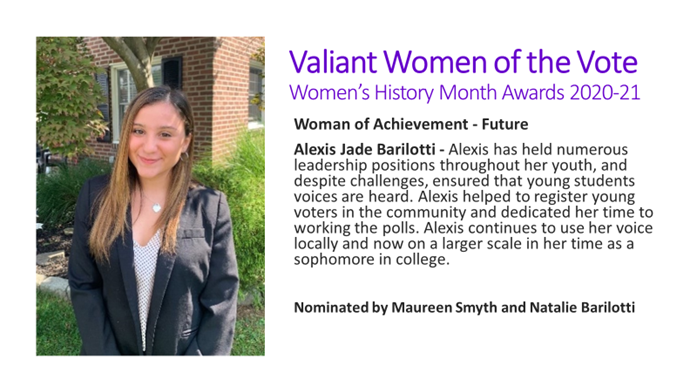 Delaware County Women's Commission Statement:
The Commission's purpose is to evaluate the concerns and needs of women and girls residing in Delaware County and making recommendations to the County Council as to how to meet those concerns and needs. The members of the Commission will serve together as the decision making body with respect to actions needed to fulfill its mandate. The Commissioners are responsible for setting policies that guide the operation of its task forces, committees, and coalitions. The Commission will work toward the advancement of Delaware County women and girls.
Goals of the Delaware County Women's Commission:
The Commission will advise and counsel the County Council on issues of public policy and their impact on women; on ways to protect and promote the equal rights of women in Delaware County; on the elimination of gender based discrimination which may exist in the County government; on methods to ensure equal consideration for employment and policy-making opportunities within the government of Delaware County; and the need for policies and programs in County agencies and departments to improve the status of women.
Commission Officers
| | |
| --- | --- |
| Lauren J. Footman, Chair | Term Expires June 2023 |
| | Lauren is a Yeadon, PA native. She graduated from Bryn Mawr College in 2014, with a bachelor's degree in English and double minors in Political Science and Africana Studies. Her time at Bryn Mawr, catalyzed her civic involvement, as she chartered the college's first NAACP Chapter. Lauren has worked as human capital and corporate responsibility professional at PwC, Aramark, and JP Morgan Chase respectively. Lauren currently serves as the Director of Outreach and Equity at the Coalition to Stop Gun Violence and Educational Fund to Stop Gun Violence. In May 2020, Lauren graduated with her master's in Organizational Dynamics, with a concentration in Organizational Consulting and Executive Coaching at the University of Pennsylvania. |
| Jordan Kelso, Vice Chair | Term Expires June 2022 |
| | Jordan is a lifelong resident of Delaware County, currently residing in Norwood. Jordan is currently employed at The Domestic Abuse Project of Delaware County. Her role is the criminal court victim advocate where she provides victims of domestic violence support while they navigate the criminal court process. Jordan received her Bachelor of Science in criminal justice at West Chester University and her Master of Science in criminal justice with a concentration in behavior management at St Joseph's University. Jordan also volunteers her time as the chairman for Norwood's youth aid panel; where she works with juveniles who have committed a first-time summary offense. |
| Sunday J. Dyitt, Treasurer | Term Expires June 2024 |
| | Sunday is a full-time student currently working towards her certification in Medical Billing and Coding. Prior to Sunday's current schooling she provided comprehensive case management to veterans who are homeless or on the verge of being homeless. Sunday prides herself on her commitment to her community and serves as a coach with the Springfield Athletic Association, Chair of the Morton Borough 4th of July Committee and a Youth Advocate for Morton Borough. Sunday is a graduate of Cheyney University and resides with her children in Morton Borough. |
| Abigail J. Gertner, Secretary | Term Expires June 2023 |
| | Abigail is Counsel at Berger Montague, where she specializes in consumer protection and ERISA litigation. She also currently serves as a Council-person for Upland Borough, where has been a resident since 2004. Ms. Gertner graduated from Santa Clara University School of Law in 2003, where she interned for the Santa Clara County District Attorney's Office in the Child and Elder Abuse Unit. She completed her undergraduate studies at Tulane University in 2000, earning a B.S. in Psychology and a B.A. in Classics. |
Commissioners
Sharon J. Booker
Term Expires June 2024
Nancy Caramanico
Term Expires June 2024

Nancy is a long-time Delaware County resident who actively supports professional and community initiatives. Nancy is a Pennsylvania certified Level II Instructional Technology Specialist and founder of Cara Tec, LLC where she works with organizations and schools to support digital technology uses for learning, leading, and collaboration. Through her program, E2Today, Nancy provides educators and organizations with the tools to harness the power of technology and social media in the classroom. She received her master's degree from St Joseph's University in Educational Instructional Technology and a Distance Learning Certification from Teacher's College, Columbia University.

Janis Carry
Term Expires June 2022

Janis is a registered Nurse in Geriatrics. She obtained her RN At DCCC, MSN in Education and post masters certificates in infection control, and health law from Wilkes University. Prior to nursing she worked as a 911 call taker for Delaware County. Lifelong resident of Delaware county, growing up in Darby and currently resides in Boothwyn. She enjoys being a "Boy Mom" and helping people reach their next level through mentorship and guidance.

Christine Corson
Term Expires June 2022

Christine is an addiction therapist that resides in Delaware County, PA with her 3 children and husband. Christine has worked in the field of Drug and Alcohol treatment for the past decade and has helped initiate programs such as second chance employment and second chance parenting; two programs aimed at giving those in recovery the tools necessary to succeed in a sober life. She also served on a subcommittee of the transition team in Delaware County during County Council's leadership transition in 2019. Christine has been recognized nationally and locally for her advocacy work and hopes to bring that same passion to others residing in Delaware County.

Lisa Boyeon Chun
Term Expires June 2024

Lisa was born in Suwon, South Korea and immigrated to America with her family at age one. She grew up in Broomall, PA where she attended school and church and applied herself to extracurricular activities including theater, choir, and tennis. Lisa graduated with a bachelor's degree in Marketing at Penn State Brandywine and has continued to involve herself with Fair Trade and UNA-USA Greater Philadelphia after college. Currently, she is an aspiring data analyst who is motivated to become a voice for immigrant women as a member for the Delaware County Women's Commission.

Alexandria J. Evans
Term Expires June 2024

Pronouns: she/her/hers
Ali is a recent graduate from West Chester University with a Master's in Public Health. She works in drug and alcohol prevention and I am a volunteer EMT. I love the Harry Potter books and movies and I have a dog named Athena. I've always lived in Delco and I am honored to be able to serve my community.

Mylisa R. Himmons
Term Expires June 2023

A resident of Delaware County, since 1988. Consistently dedicated to women's initiatives, advancement, and advocate for all things that promote equality in the community and women's rights. Mylisa attended Archbishop Prendergast Catholic High School located in Drexel Hill, PA. Mylisa completed her bachelor's degree at Widener University '97 in Sociology and Elementary Education. Later, Mylisa earned her Master's degree in Special Education and Reading Specialist from Saint Joseph's University 2001. In 2017, Mylisa went on to earn a Master's in Administration and Supervision from Rowan University. Mylisa is the mother of two beautiful daughters and grandmother to two energetic young humans.

Danielle McNichol
Term Expires June 2022
Diane Simon
Term Expires June 2022

Diane is a retired School Administrator from the Philadelphia and the Springfield School Districts. Her community activities include the Executive Board of the Community Action Agency of Delaware County, the Heart and Soul Leadership Team of Upper Chichester, the Women's Democratic Club of Delaware County, the Democratic Club of Upper Chichester and Delta Sigma Theta Inc. a Public Service Sorority.

LaKisha Smith
Term Expires June 2023

LaKisha has lived in both Drexel Hill and Upper Darby for the last 20 years, where she and her husband have raised two children. LaKisha is a casework supervisor with the County of Delaware, Children and Youth Services for 18 years. LaKisha received her undergraduate degree in Criminal Justice from Widener University, her graduate degree in Criminal Justice from St. Joseph's University, and her Master's in Social Work from Widener University. LaKisha has deep interest assisting young ladies with trauma and hopefully developing summer programs for youths in the community.

Sukha Williams
Term Expires June 2022

Sukha works for an Alaskan Native Corporation. Her passion is in helping develop partnerships between small businesses and corporations. Sukha has served on the board of the International Center for Alleviation of Poverty, which helped women obtain educational services and start businesses. Sukha has certifications in Sales and Marketing from the University of Pennsylvania Wharton Small Business Development Center and Construction and Quality Management from the U.S. Army Corps of Engineers and has received the U.S. Army Engineer Regiment One Star General Coin. She lives in Morton PA with her family.
History of the Delaware County Women's Commission
In 1984, the Delaware County Council resolved to create a task force to study the situation of women and girls in the county and develop recommendations to address issues of concern. The Task Force on Women and Girls labored for more than a year, and their report, Women and Girls in Delaware County: Looking at the Present, Planning for the Future, led to a series of corrective measures and changes within the county government. Not least of these were the recommendations to establish a women's information center and an ongoing women's advisory group. As a result, the County Council established the Delaware County Women's Commission in October of 1985, to continue the work of the Task Force on Women and Girls, and serve as advocates for the women of Delaware County. The Commission took this charge to heart, and from that point forward, labored to improve the quality of life within the County, not only for women, but for those who depend on them as well. To acknowledge the contributions of women throughout history, beginning in 1986, County Council took the Commission's suggestion to officially recognize March as Women's History Month. In 1987, they crafted a report on child support enforcement in the county, which implemented wide-ranging changes that made Delaware County a nationwide model for support enforcement. The DCWC initiated a study of adolescent pregnancy in 1989. A countywide conference brought together educators, health professionals, human service providers, clergy, and community leaders to explore issues faced by pregnant and parenting teens. This dialogue led to the establishment of a task force charged with researching various aspects of these issues specific to Delaware County. The Adolescent Pregnancy Task Force Report of 1992 proved to be of interest to the broad community and served as a valuable resource to service providers. Over the next few years, the Commission focused on the development of women-owned businesses in the county and support of female entrepreneurs.
In 1995, to commemorate their 10-year anniversary, the DCWC published a Historical Review, covering the major accomplishments of their first 10 years in existence. We have provided this document in .pdf form for those who wish to take a closer look at the early successes that defined the Women's Commission as a body.
Since then, the Commission's focus has primarily been on major projects. Intending to provide a deeper insight into women's health issues, the Commission published A Guide to Understanding Women's Health Issues in 1996. The findings from our 1998 Violence Against Women report led to significant changes in data collection and classification of domestic violence cases. It served as a catalyst for change in the way that the criminal justice and the health and social service systems respond. Stemming from that project, a second related project focusing on Violence Against Women with Disabilities received two years' worth of research funding from Women's Way. In a subsequent collaboration with Speaking For Ourselves, a support organization for the disables, a national grant was awarded by the Ms. Foundation to support the work of a joint task force. This report is available to the public on this website. Hard copies will be available at local libraries and by request from the DCWC office.
In conjunction with the Friends of the DCWC, we are continuing our series of community education forums. With the support of the Friends, the Center Foundation, and Project ELECT, and financial support from Women's Way, the Franklin Mint Federal Credit Union, and ConocoPhillips, the DCWC plugged a serious information gap with the production of the Women's Resource Guide, a listing of dozens of organizations within the community that offer assistance to women in need. This guide is one of our most widely distributed, as roughly 20 to 30 thousand are sent out to public facilities, community organizations, and state officials, who then distribute them to those in need of the services referenced in the guide.