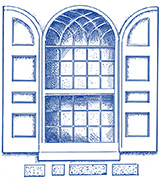 Preservation Planners work closely with the Heritage Commission to promote historic preservation throughout the County.

The Delaware County Heritage Commission has regular monthly meetings open to the public. They meet the first Tuesday of each month (excluding June, July, and August) in the Planning Department, First Floor, 1055 E. Baltimore Pike, Media, PA. The Commission is charged with coordinating and promoting the cultural heritage of Delaware County. It is composed of 11 members appointed by County Council who serve on a volunteer basis. Heritage Commission members elect their Chairman and Vice Chairman, and the Planning Department provides professional planning services for the Commission.
MISSION
The Heritage Commission's mission is to oversee the rich heritage of Delaware County and to support those organizations within the County that are promoting and preserving our cultural legacy. Commission members accomplish this mission through outreach within the historic communities of Delaware County, as well as providing a resource base for these organizations and individuals.
To get in touch with a member of the Heritage Commission, contact the Planning Department at 610-891-5200 or Planning_Department@co.delaware.pa.us.