Sustain Delco: A Sustainability Plan for Delaware County, Pennsylvania
In February 2020, the Delaware County Council recognized its commitment to a more sustainable Delaware County through the creation of the Delaware County Sustainability Commission. Charged with providing recommendations regarding best environmental and energy practices, as well as the creation, review and ongoing input into a Delaware County Sustainability Plan, the group worked diligently to identify priorities for Sustainability in Delaware County. Out of these discussions, four guiding principles and six key focus areas were identified, beginning the development process for Delaware County's first-ever Sustainability and Climate Action Plan.
What is a Sustainability and Climate Action Plan?
A Climate Action Plan serves to identify and measure greenhouse gas emissions (GHG) and establish meaningful strategies to reduce them in a community. Climate Action Plans typically set specific targets for greenhouse gas emissions (GHG) reduction and provide detailed steps for achieving them. One notable example of a Climate Action Plan is the 2021 Pennsylvania Climate Action Plan, which identifies strategies for government, business, agriculture, community leaders, and all Pennsylvanians to reduce GHG across the state.
A Sustainability Plan is typically broader than a Climate Action Plan focusing on the three main pillars of sustainability: profit (the economy), people, and the planet. In taking this approach, sustainability plans typically establish broader goals than just GHG reduction, such as reducing environmental inequalities in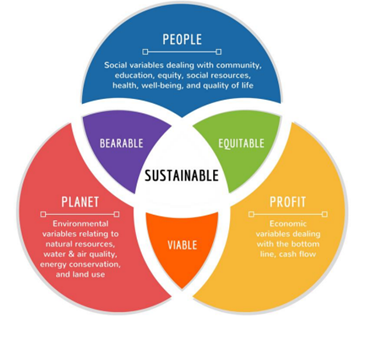 marginalized communities, improving water quality in local watersheds, or addressing environmental health concerns such as indoor air quality. Delaware County is seeking to create a plan that blends the priorities of both a Climate Action Plan and a broader Sustainability Plan. In taking this approach, the County is seeking to create a data-driven and community-informed plan which addresses key focus areas, with special attention to GHG.
Why is a Sustainability and Climate Action Plan Important for Delaware County?
Sustain, by definition, means "cause to continue for an extended period or without interruption." In creating a Sustainability and Climate Action Plan for Delaware County, the County is taking steps to improve our environment and community today, so all may have safe, healthy, and enjoyable place to live without interruption in the wake of a changing climate. Sustain Delco: A Sustainability Plan for Delaware County seeks to "green" county operations while also promoting positive changes in all 49 Delaware County municipalities.
What Progress has been made so far?
Since the creation of a Sustainability Commission in February 2020, the County has been actively taking steps toward building a more sustainable Delaware County. Beginning in 2021, the creation of a Sustainability and Climate Action Plan has become a main priority. In 2021, the Commission created an internal subcommittee to identify priorities of the Plan as well as the guiding principles of the process. After much research, collaboration, and a community survey, four guiding principles and six focus areas were identified as priorities.
The four guiding principles represent the most important values that will serve to shape County behavior and action in our Sustainability Plan. They include:
Economic Sustainability – Making smart economic decisions without compromising the health of the environment or community.

Education – Ensuring that we are not only being thought and practice leaders but are providing the residents of Delaware County with the educational tools needed to grow and thrive.

Equity, Inclusion, and Justice – Serving to ensure that all community members of Delaware County are equally getting a seat at the table and receiving the benefits of this plan while also addressing the barriers that marginalized residents face that prohibit them from having equal access.

Governance – The idea of ethically and transparently serving the residents of Delaware County.
In addition to the four guiding principles, six focus areas were identified as key areas for action in the County's path to sustainability: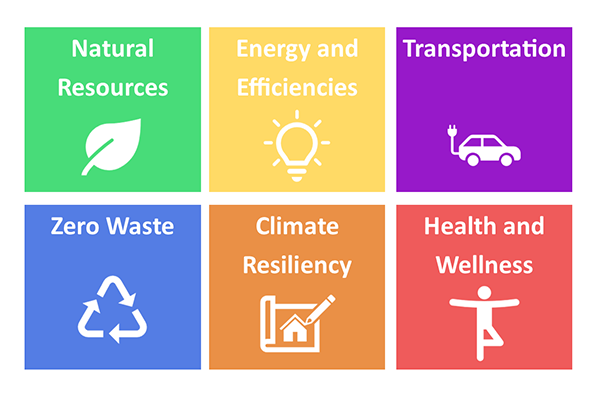 In September 2021, Delaware County also joined the Pennsylvania Department of Environmental Protection's Local Climate Action Planning Cohort . Through this program, Delaware County worked with two college students from Bryn Mawr College to create a Local Climate Action Plan (LCAP) for Delaware County. The LCAP will serve as a guiding document to the County's larger sustainability plan, providing valuable information on GHG emissions in the County, as well as suggestions for reducing them. This data will be woven into the key focus areas of the sustainability plan including, Zero Waste, Energy and Efficiencies, and Transportation. To view the Delaware County LCAP, completed and submitted in August of 2022, please use this link.
What are we currently doing?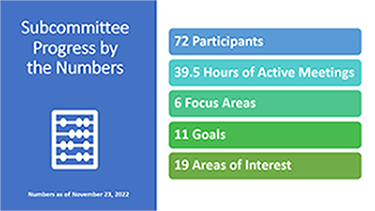 In June 2022, six subcommittees were created to identify the goals, targets, and actions for each of the focus areas. Each subcommittee is comprised of community advocates, partners, and experts specific to their focus area. Ranging between 10 and 20 members in each group, the subcommittees have worked to identify topic-specific goals and targets and are now actively working to vet specific actions to meet those goals.
Office of Sustainability staff are actively meeting with internal County Departments and external community partners and groups to identify areas of partnership and opportunities to elevate existing initiatives and programs around the County. The information gathered from these meeting inform actions in the Plan, as well as identify additional areas of need.
What are the next steps?
The next step in our process is for county staff to begin drafting the narrative components of the Plan. Narratives will include important facts and data to better understand existing conditions, explanations for technical topics, case studies of sustainability super stars in Delaware County, and insight as to why certain topics were included in the plan.
In additional to drafting the plan, our next steps will include a robust community engagement component which allows community members to get involved through surveying, community meetings, and other activities. More information regarding how to get involved will be posted soon.
Following the community engagement process, amendments to the plan will be made and feedback will be incorporated into the Plan. A completed draft will then go before the Sustainability Commission for review, prior to being presented to the Delaware County Council.
To see a more detailed planning timeline, see the attached chart.

How Can I Get Involved in the Process?
In December of 2021, a community survey was issued to identify priorities in sustainability, as well as gauge the community's existing thoughts on climate change. Below are some of the highlights in response to over 650 respondents from 40 of the 49 Delaware County municipalities:
75% of respondents were concerned about the impacts of climate change by a great deal, while only 2% were not concerned at all.


Respondents identified Natural Resources, Climate Resiliency, and Solid Waste Management as the top three priorities for the Sustainability Plan.


81% of respondents felt that flooding would have the greatest impact of the climate change related hazards.
Additional opportunities for community involvement will be coming soon.