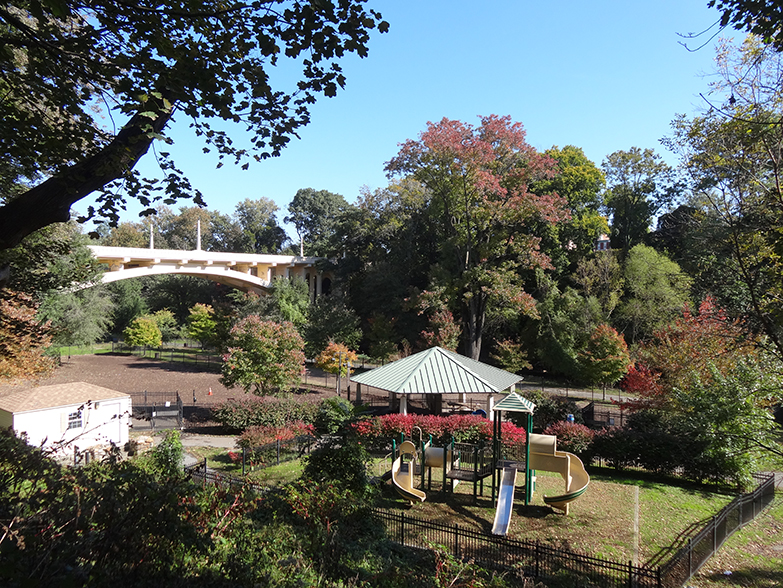 Kent Park is a scenic 10-acre stretch of green that runs along Darby Creek under the historic Lindbergh Bridge. This park has traditionally been used for hiking and fishing and now features a renovated multi-recreational area with a playground, pavilion, and fenced-in dog park.
The Kent Dog Park offers a fenced-in area for well-behaved dogs to get fresh air, exercise and playtime with other dogs. Members of the dog park may let their canine pals romp unleashed in the fenced-in facility, which contains a covered pavilion, benches, water, and, of course, dog-litter bags.
The Dog Park is divided into two fenced-in areas: one for dogs 25 pounds and larger, and one for smaller dogs. Both enclosures are double-gated to prevent dogs from getting loose, and an electronic key fob is required for entrance. Hours are dawn to dusk daily.
The Dog Park is operated by The Delaware County Department of Parks and Recreation and Upper Darby Township. Park users are required to register for membership, and to abide by the rules and regulations designed to keep the park safe and well-maintained. The dog park is open year-round, so daily weather conditions are naturally a factor in the availability of the park's amenities. The water fountain, for instance, must be winterized and shut off during the coldest months, and the park is subject to closures should any storm damage require repair. The mulch in the dog park gets replenished twice a year, once in the Spring and once during the Fall, when conditions are most favorable to do so.
Registration: Use of the Dog Park is for Delaware County residents only, and registration requires a current dog license and rabies vaccination. Annual membership is $20 per household;$10 for senior citizens. Renewal is $10 for residents, and $5 for seniors.
Dog Park Application Form and Information