Due to the evolving Novel Coronavirus (COVID-19) pandemic in our region, Delaware County is taking measures to keep the public and county employees safe by minimizing social contact.
During this time, we are using email as the primary method of communication. Please refer to our staff directory link here or leave a message at 610-891-5425. If you are not able to conduct business online, staff is available by appointment.
The mission of the Office of Housing and Community Development (OHCD) is to promote sound housing and community development in Delaware County with the use of federal, state and local resources. OHCD is responsible for the planning, administration, and oversight of three federal programs: the Community Development Block Grant (CDBG), HOME Investment Partnerships (HOME) and Emergency Solutions Grants (ESG) Programs. The office is also charged with oversight of state initiatives funded through the Pennsylvania Department of Community and Economic Development and County initiatives, as funds become available.
Recent Updates and Announcements
Notice of 2022 CDBG Application Availability
Delaware County Council has initiated planning for development of the County's FY 2022 Housing and Community Development (HCD) Action Plan, which includes the Community Development Block Grant (CDBG) Program. The County anticipates receiving approximately $3.0 million in CDBG funds in the upcoming program year, which is scheduled to begin on July 1, 2022. Those interested in applying for funding can find additional information here.  All applications must be received no later than 4:30 p.m., January 7, 2022.

Soliciting public input is the first step in preparing the County's HCD Action Plan for FY 2022. OHCD has scheduled a public hearing to assess the County's housing and community development needs on Monday, December 6, 2021, at 6:00 p.m. In accordance with social distancing guidelines, the Public Hearing will be held virtually using Microsoft Teams. Please contact OHDC by email at OHCD@co.delaware.pa.us to obtain a link to this virtual meeting. Anyone wishing to comment on housing and community development needs, request information on proposed programs, or review program performance, is encouraged to attend this hearing. OHCD staff will be present to discuss issues related to the development of the HCD Plan and address any questions.

Notice of Request for Proposals for Delaware County Impact Fund
The County of Delaware (County) has received CDBG-CV funds to be used to prevent, prepare for, and respond to the COVID-19 pandemic and economic shutdown.  The County is seeking proposals for the Delaware Count Impact Fund to assist in activities or services that will aid in the response to the COVID-19 pandemic. A portion of these funds may be granted for the expansion of existing services related to the pandemic, with maximum percentage of funds going directly to assist eligible low- to moderate-income Delaware County residents in need. Priorities include housing assistance and related services including but not limited to: eviction prevention, landlord/tenant mediation, foreclosure mitigation, credit counseling, the provision of life-sustaining activities and resources such as providing food, shelter, and medical services.  Please refer the Program guide here and application here.

Applications are due no later than Wednesday November 24, 2021 and may be submitted electronically to ohcd@co.delaware.pa.us .  A hard copy with original signatures is required to be delivered to the OHCD located at 600 N. Jackson Street, Suite 101, Media PA 19063.

The DELCO Emergency Rental Assistance (DELCO ERA) grant program helps renters who suffered disruption and loss of income due to the COVID-19 pandemic with assistance with rent and utilities. The U.S. Treasury and Commonwealth of Pennsylvania allocated $37.2 million to fund DELCO ERA. Apply here https://delco-era.com/.

Delco CARES Housing Assistance Program

Rent, mortgage and utility assistance is now available through the Delco CARES Housing Assistance Program to qualified renters and homeowners in Delaware County who have been financially impacted by the COVID-19 pandemic.

For mortgage and utility assistance, please contact:
Persons who are homeless or renters at risk of losing their housing should contact: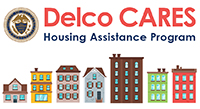 The Delaware County Lead Hazard Reduction Program (LHRP)
Did you know that qualified homeowners, landlords, and renters can improve the safety of their properties and homes by testing for and remediating lead paint? Learn more about this grant program here.