Due to the evolving Novel Coronavirus (COVID-19) pandemic in our region, Delaware County is taking measures to keep the public and county employees safe by minimizing social contact.
During this time, we are using email as the primary method of communication. Please refer to our staff directory link here or leave a message at 610-891-5425. If you are not able to conduct business online, staff is available by appointment.
The mission of the Office of Housing and Community Development (OHCD) is to promote sound housing and community development in Delaware County with the use of federal, state and local resources. OHCD is responsible for the planning, administration, and oversight of three federal programs: the Community Development Block Grant (CDBG), HOME Investment Partnerships (HOME) and Emergency Solutions Grants (ESG) Programs. The office is also charged with oversight of state initiatives funded through the Pennsylvania Department of Community and Economic Development and County initiatives, as funds become available.
Recent Updates and Announcements
Delco CARES Housing Assistance Program

Rent, mortgage and utility assistance is now available through the Delco CARES Housing Assistance Program to qualified renters and homeowners in Delaware County who have been financially impacted by the COVID-19 pandemic.

For mortgage and utility assistance, please contact:
Persons who are homeless or renters at risk of losing their housing should contact: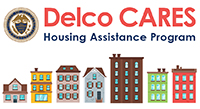 The Delaware County Lead Hazard Reduction Program (LHRP)
Did you know that qualified homeowners, landlords, and renters can improve the safety of their properties and homes by testing for and remediating lead paint? Learn more about this grant program here.